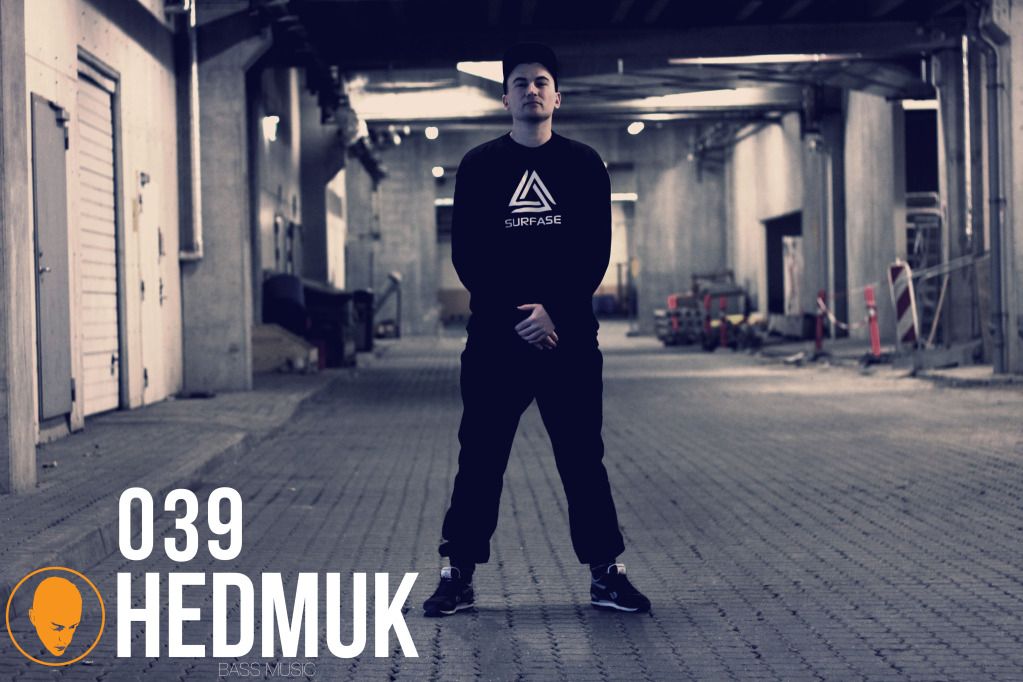 RDG
currently stands as one of Denmark's leading dubstep exports, regularly booked throughout the UK and with a steadily-building list of releases on labels including Boka, Dubliminal and Walsh's Biscuit Factory imprint; yet he is also dedicated to pushing the sound in his home country both through his own productions, tight selections and through his own label,
Surfase Records
. We caught up with him to find about his unique approach to building tunes and more.
Hedmuk: As an introduction, what's your name, where do you hail from and how would you describe your sound?
RDG:
My name is RDG, and I'm from the cold northern country of Denmark. I reckon my sound is minimal, but at the same time raw and heavy. I'm very inspired by sci-fi and outer space too so I'm sure that will come to mind when you listen to my music.
H: Do you think of yourself as being from a musical background, or is it something that you picked up on and developed yourself? What was it that make you want to start producing beats in particular?
R:
I've have always been involved in music production since I was a little kid; my dad used to show me how to produce on various of programs and gave me shit loads of music at a young age. I had also been active in some bands as a vocalist and drummer for some years.
When I first starting to listen to dubstep properly, I wanted to be a part of it so badly. So I started buying in vinyls and practising: I wasnt really good at DJing, but people liked my selection and I had a lot of good gigs.
After a year or 2 I thought it was time to give producing dubstep beats a chance, and at first it was horrible of course. But I started spending more and more time on production and I ended up with the only choice of moving into my studio permanently after I lost my apartment, and that gave me time to stay up late and focus on music production.
In this time period, I made some of the tracks that made my sounds known outside of Denmark and some of the tracks has been released here in 2012, such as 'Ironman', 'DJ', 'Copenhagen' 'Midnight' and 'Bone Crusher'.
H: I understand that you take a very sample-based approach to making music:
do you view this as working in an extension of the methods used by, as it were, your predecessors and influences in the early jungle and UK garage scenes?
R:
I've been collecting samples since I was little kid, so my collection is quiet big and still go hunt for new sounds here and there. I also like recording sounds from the real world and using them in my tracks.
For me it has always been about trying to create sounds and noises that no one else has ever made or can recreate. To make it clear, I dont use sample packs bass sounds etcetera: I create my own sounds by using a sampler, for example making a bass sound from a hi-hat/snare/random noise.
Music has always been about personality, not mass production of the sound that is popular at the given time. And yeah, I'm also influenced by how they used to do it, and how people came up with that raw sound back in the day. But I don't use any VST synth programs, they just don't work for me.
H: You also run your own label, Surfase Records with ROOT collaborator JB; can you tell us a little about the inspiration behind that? And what are your plans are for the label's immediate future?
R:
Surfase Records started because both of us always wanted our own label and we got sent so much good music that was too good to be forgotten. At the moment we've only released tracks by Danish artists, but have also signed tracks from both Belgium and the UK to be released in the near future. Hopefully we're going to release some vinyls in the next year or so too.
H: Your homeland of Denmark isn't necessarily known for it's bass music exports, but do you feel that there is a strong scene for it over there?
R:
We've actually got some good artists known for their hard, pumping bass, for example the Kraken heroes 2000F and JSL, the techno kings Northern Structures and the drum 'n' bass genius Beastie Respond.
However Denmark is not the biggest country, so it's hard to have a scene for any kind of music that isn't just pop radio material. But we are a small core of people who enjoy and work for bass culture in Denmark and there are a lot of new upcoming talents for example: Server, Triky, Plasticsun, Chapta and let's not forget the not-so-new Albert.
H: Take us through how you went about putting together the mix you've done for us.
R:
I chose the tracks I'm feeling at the moment, and the tracks I am playing at gigs. Every track is different from each other and nothing is planned. No tracklist needed really, just pure vibe.
H: Finally, are there any forthcomings or anything in the pipeline that you'd like to put the word out on?
R:
I am working with some different vocalists at the moment, including the migthy Beezy, and I am also working on a EP with my good friend Beastie Respond on producing beats for a Danish female rapper called MC Alvarado, which I think its going to be a mind-blowing project, so watch out for that one!
The lab is not on safety at the moment, there's much more to come.
Tracklist:
Loefah - Horror Show [DMZ]
RDG - Ayahuasca [Dub]
Hitman & RDG - Mercenary Ship [Dub]
Jack Sparrow & Core - Backer [Dub]
Curzed - Deep Tortment [Dub]
Razor Rekta - Tugboat [Dub]
Server - Unknown [Dub]
Twisted &Rakoon Feat. Beezy - Secluded [Dub]
ROOT - Construct [Dub]
The Dub Mechz - Talking To The Gods [Dub]
RDG - Space Age [Dub]
RDG - A Safer Place [Dub]
Server - Blessings [Dub]
RDG & Server - Valley [Dub]
Core - Vital Nerve [Dub]
RDG - Mind Loop [Dub]
Server - Gravity [Dub]
Subreachers - Sliced [Dub]
RDG - Release The Kraken [Dub]
Squarewave - Snitch (Sukh Knight Remix) [Dub]
JSL - Skin Out (RDG Remix) [Dub]
Jay5ive & Kromestar - Mind Pattern [Forthcoming Deep Medi]
RDG - The Commander [New World Audio]
Occult & Vantage - Contagion [Dub]
RDG - Mountain Walk [Dub]
Perverse - Glacier (RDG Remix) [Dub]
Hitman - All I Need [Dub]
.Preacha.