Despite now having established themselves a staple on the
Manchester club circuit, the guys at Project 13
have never been about finding a laurel to rest on and continue to dedicate themselves to trying new things - and, not unlike ourselves here at
Hedmuk
, always to retain the music as the centrepiece. Their latest venture comes with a little more mystery then usual, though, as they announce the first of a run of parties held in a warehouse space in Manchester, featuring as-yet-unannounced headliners representing Deep Medi, Hypercolour and Hyperdub respectively; and with all this in mind we thought it best to hit them up for a little more information on what to expect from their upcoming
Secret Sessions
parties, as well as to get some prize together for a big giveaway:
Hedmuk: What was the thinking behind moving P13 out of a more regular club environment, as it were, and into the more neutral warehouse setting?
Jacob P13:
It's a project we've been contemplating for a while now, the resources have been there and we felt now was the perfect time to execute. Our nights at
Joshua Brooks
have all been smashes but, as great as the venue is, our music policy and following doesn't tend to gel as well as there as we'd like.
Ideally, we'd like a big dark room, a quality sound system and quality artists - which is what we have at the
Secret Sessions
.
H: Have you got more of this type of event planned for the future, and will you still be running the more regular nights at Joshua Brooks too?
Matt P13:
We plan on doing a short string of events like this in the future, although whether that'll be at the same venue or not, we don't yet know. I suppose it comes down entirely to how well the first one goes down, and if it captures the interest of our following as well as we hope it will. Running an event like this has so many more risks that your standard club event. If we do continue these warehouse-type parties they'll be more spaced out than our club nights, and will crop up just as randomly as our club-based events. We will also be continuing at Joshua Brooks, although our next event won't be until mid-May, for our 2nd birthday.
H: In terms of the music you're representing, do you feel like your new setting in the warehouse gives you more freedom when putting together a lineup as the venue does less to distract from the music on show?
J:
Yeah fully, we can do our own thing in terms of orchestrating the fundamentals of the event - from the music policy, the sound, the staffing, the door policy and everything else in between - to make it a Project 13 party at its realist and finest.
It's events like these that intrigued me the most about this scene, going to free parties over the country where you had no idea what to expect besides good music, good sound and good vibes. We couldn't be happier with what we have in store for the event.
H: Is keeping the capacity low, at 150, something you've thought a lot about too?
M:
Semi. It's in our best interests as well as the audience's that we keep the numbers down for safety purposes. However, having 150 people in a large industrial space keeps the intimacy there and gives people their own space to do as they please. When we put on nights in clubs, we put a lot of effort into filling the gaff. It can be going off on a next level, however if you've not got space to breathe let alone move to the music, it can seriously damage the vibe on a whole. I personally feel that having space to dance, mingle with like-minded people, or just lurk on your own in a dark corner is what people will take back from the night, and makes a good night just that.
H: What else have you got lined up for Project 13 over the coming year?
J:
Event-wise we have the Secret Sessions party and the 2nd birthday at Joshua Brooks in May. Our main focus at the moment is planning the next series of live streams which will be dropping in Spring. We're also orchestrating the first release for the label that we are hoping to have out by the start of next year on vinyl.
[P13 residents] Leadbelly and Acre have
just released a white label which has gone down great
; Leadbelly and T-Man have a video dropping shortly which is looking big; Acre has a massive release out soon, so watch out for that; and there will be a few of our artist at Outlook this year too.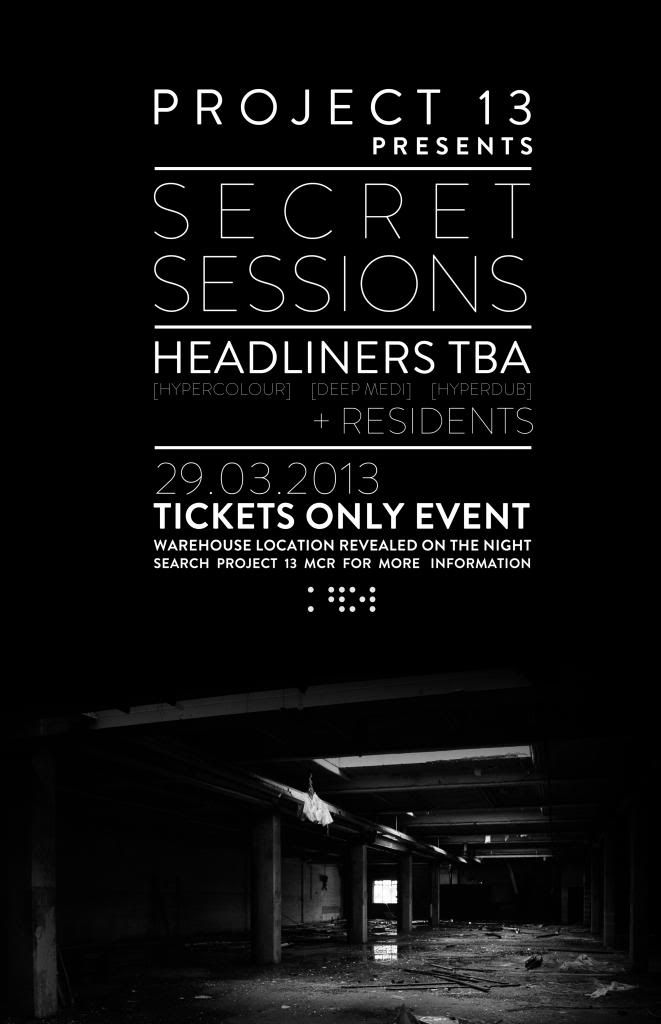 And to be in with a chance of winning one free guestlist entry to the
first Secret Sessions party
, a
Project 13 T-shirt
in the colour of your choice, and a copy of the aforementioned, strictly-limited
white label from Leadbelly and Acre
, simply send your answer to the following question to hedmuk@gmail.com with 'Project 13 Secret' in the subject line:
Which of the Project 13 residents playing on the night last year put out a vinyl release on Innamind Recordings?
The competition will close on the 27th of March, at which point a winner will be chosen at random by an independent third party and notified by email - as well as being announced via the Hedmuk
Facebook
and
Twitter
pages.
W.