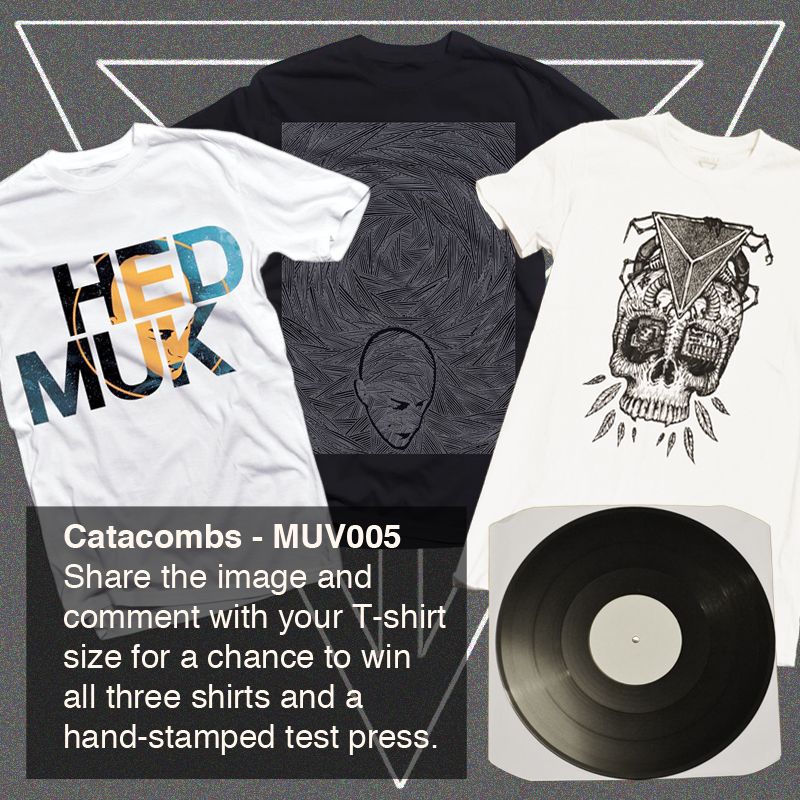 For
Catacombs
' second outing on wax we're
once again
giving the opportunity to bag a test press ahead of the full release, and this time we're going to be giving away three T-shirts too: one
Hedmuk X Thelem
, one
MUD X The Tribes
, and one
Hedmuk X Generic Greeting
.
The release itself sets a new benchmark for the MUV imprint, and for Catacombs too as 'Music Mi Luv' and 'Badman Culture Pt. 2' show the young producer relishing a newfound energy and pleasure in rhythmic expansion, with the former's perfectly-levelled bob and weave and the latter's quick step and dark techno aesthetic. That both beats have been go-to tunes for two of dubstep's foundational DJs, Hatcha and Youngsta, is a testament to the balance they strike between defining a current sound and giving a nod to its future. 'Cursed' and 'Searcher', both collaborations with label head Demon, combine Catacombs enormous kicks and precise sense of atmosphere and movement with Demon's penchant for razor-sharp Reese basslines.
To be in with a chance of winning, simply head over to the
Hedmuk Facebook Page
, share
this image publicly
, and leave a comment as to which size of T-shirt you'd like to receive. The competition will close on Friday the 19th of April, on which date a winner will be selected at random by an independent third party and then announced via
Facebook
and
Twitter
.
Catacombs - MUV005 is set for release in late April/early May, with 'Searcher' available as a bonus track on the digital release.
W.