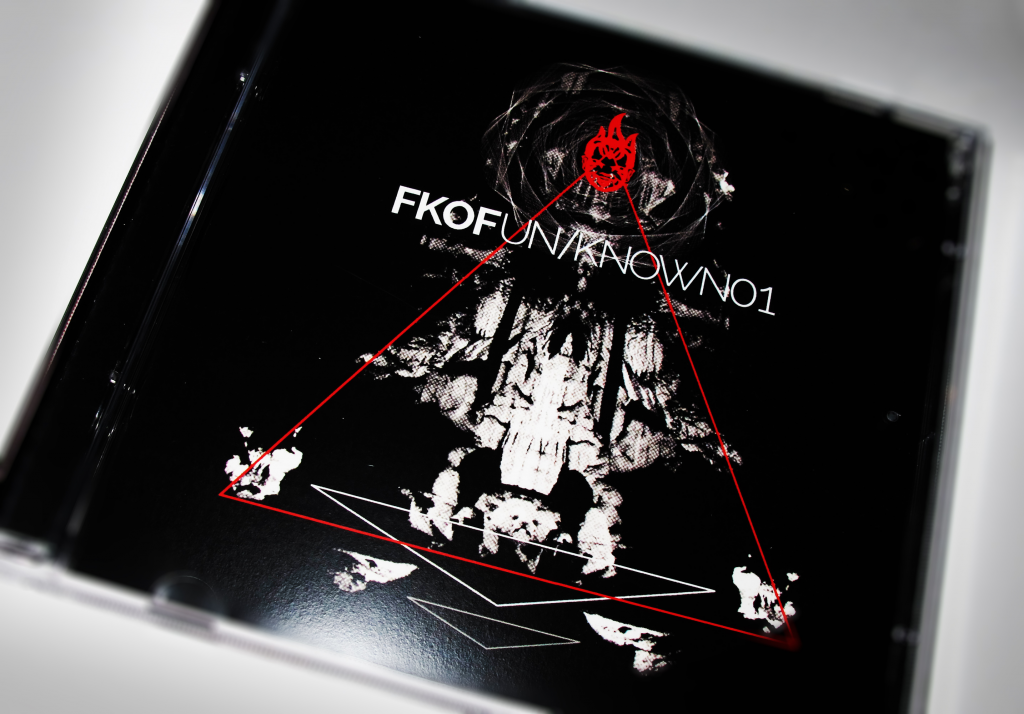 After a little over three years of pushing free downloads and mixtapes, our friends over at FatKidOnFire have stepped up to deliver their first release proper in the form of the '
FKOFUn/Known01
' compilation. Featuring twenty tracks split across two CDs, the release is aimed - as its title might suggest - as pushing the boundaries of what we consider to be dubstep, as well as showcasing new talent alongside some of the scene's more established names.
The compilation, for the most part, deals in dubstep: continuing the largely successful reclamation of the sound's deeper elements and pushing on with recent attempts to expand upon the half-step template through scattered hand percussion and off-kilter hats. Tunes such as
Perverse
's 'Hallidome',
Percept
's 'Reality' and
BunZer0
's 'Melancholy' revel in their focus on drums and each stand to make the point that 'stripped back' needn't necessarily 'mean half-step with sub-bass'.
Gantz
is, and has for a long time been, one of the best around at making this point and his inclusion on the release - 'Low Lands' being a real standout - thus serves as a strong reference point for what can be achieved within the ever-tighter confines of the 140 bracket. On a similar note, although arguably in a field of his own entirely,
Ipman
manages something quite outstanding with 'Flipmode' and its flurry or breaks, stabs and pulsating sub. That is not to say, however, that tunes such as
Caski
's 'Sandstone' or
TMSV
's remix of
Thelem
's 'Drones' fall flat because of their lurching half-step drum patterns: both have an immense attention to groove and move solidly as a result, themselves emphasising that there's still plenty of room between the kick and the snare for a good tune.
As far as the title's suggestion goes, there is plenty on offer in terms of new names to be met alongside the more-established artists and the likes of
Nanobyte
,
FNC
and
Eleven8
- as well as a whole host of others - all make strong cases for themselves, each taking steps towards stamping their signature on the sound.
The release can be previewed via the promo mix below, which is available, along with a digital download of the CD contents, for free to anyone purchasing the physical release.
'FKOFUn/Known01' is available for purchase now from the
FKOF BigCartel store
.
Tracklist:
CD1
1. Nanobyte – Another Promise
2. BunZer0 – Melancholy
3. FNC – Code Signal
4. Juss B – Friction
5. Gantz – Low Lands
6. The Illuminated – Conspicuously Smooth
7. Soundproof – Everyday
8. Subreachers – Dysfunctional Systems LTD
9. Thelem – Drones (TMSV remix)
10. Fused Forces – Litter Bug
CD2
1. Boot & TZR – Pathetic Earthlings
2. Content – Osmosis VIP
3. Percept – Reality
4. Caski – Sandstone
5. Perverse – Hallidome
6. Sparxy – Follow Me
7. Truth – No Difference
8. Ipman – Flipmode
9. Camu – Invocation
10. Eleven8 – Motions
W.