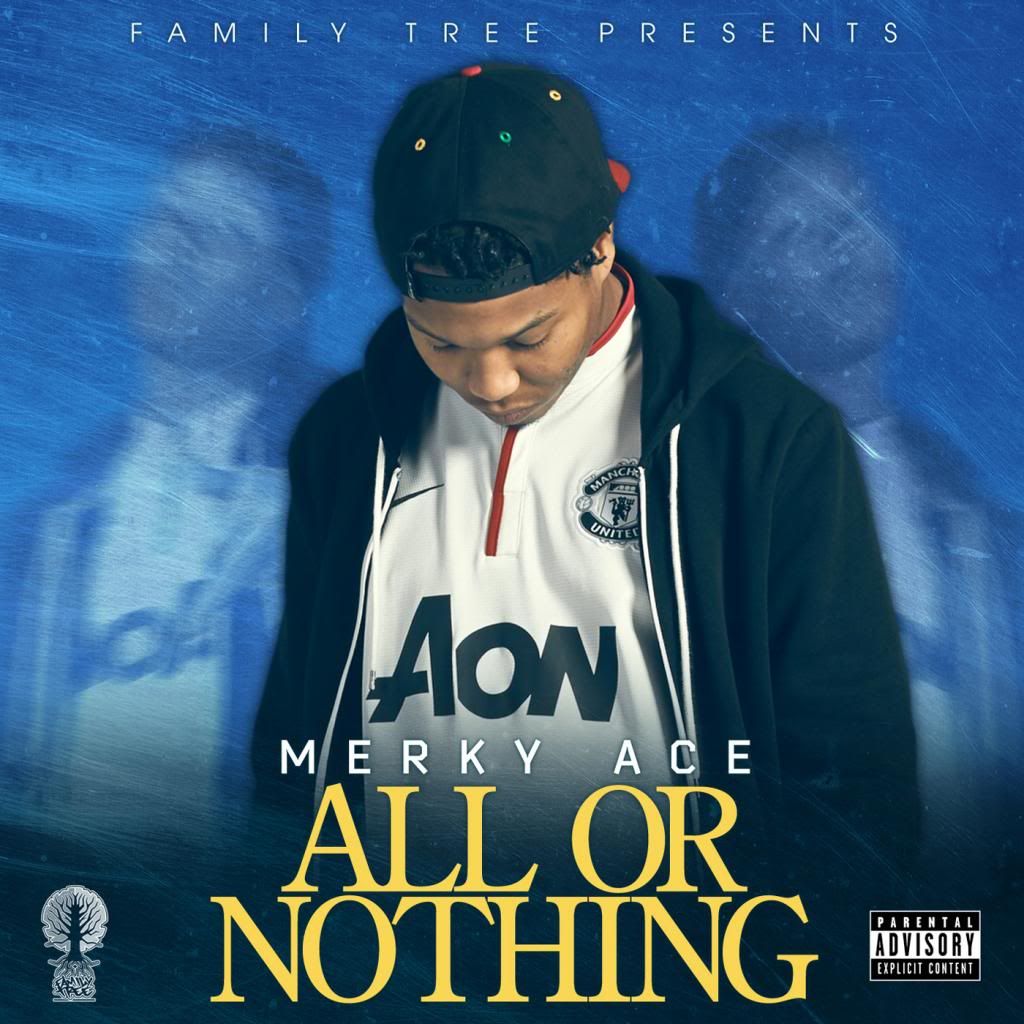 Merky ACE's
first CD
was, back in 2011, a statement-maker: unrelenting, aggressive flows and smart-arse wordplay over brand new beats from a select bunch of producers, including the likes of Faze Miyake, Royal-T and Splurt Diablo, who were also beginning to make inroads into the grime scene. And despite the close-knit feel of the release, with other MC features being strictly
Family Tree-related
, the variation to be found on the CD was what made it so strong; this wasn't just a bunch of skits and half-cooked freestyles over the scene's current buzz-beats, and perhaps most importantly it felt genuine and honest in its boundary-pushing. By the time
Jammer was deciding to introduce Waka Flocka Flame to grime by playing trap and Fekky
, Merky and his team had been testing the borders between the dank lean of Dirty South hip hop and skippy double-time grime flows for years. 'All Or Nothing' is a follow-up full-length in the truest sense as we see how the young South Londoner's music grows as he does.
'You Think You Know Me', which featured on the stop-gap 'Catch Up EP', saw Merky taking on deeper, more personal material and 'All Or Nothing' sees him expand on this tone, positively diversifying his style. The reflective hook line on '
Intro
' sets a casual pace from the off, stripped of the need to shout loudest in order to be heard. This sense of feeling comfortable within his own style, as though he's not having to try too hard to sound original is one of the most inviting aspects of Merky's approach and means that chorus-led tunes - so often standout casualties on a grime mixtape - don't sound overwrought or drenched in concept. As previously, though, and as should arguably be the case for any decent grime MC, when he's at his best is spraying 16s and bouncing flows back and forth with other crew members; these direct impact set-pieces (see 'Wack', 'R.I.P' or the title track, 'All Or Nothing') serve as constant and regular reminders as to why Merky and his fellow FT members have had the whole scene hot on their heels. Keeping with the team aesthetic, most of the producers who feature - including Faze, Splurt, Rude Kid, Zdot and Teddy Music/Silencer - also had offerings on 'Blue Battlefield' and the diversity shows again, with each beatsmith giving Merky different spaces to tangle his flows in.
'All Or Nothing' completes what 'Blue Battlefield' started, and as the first of a two-part collaboration with No Hats No Hoods sets up an exciting prospect for what can come next from the young talents on show here.
Merky ACE - All Or Nothing will be released by No Hats No Hoods Records on May 27th 2013 and is available to
pre-order in physical format from the NHNH store now
.
W.