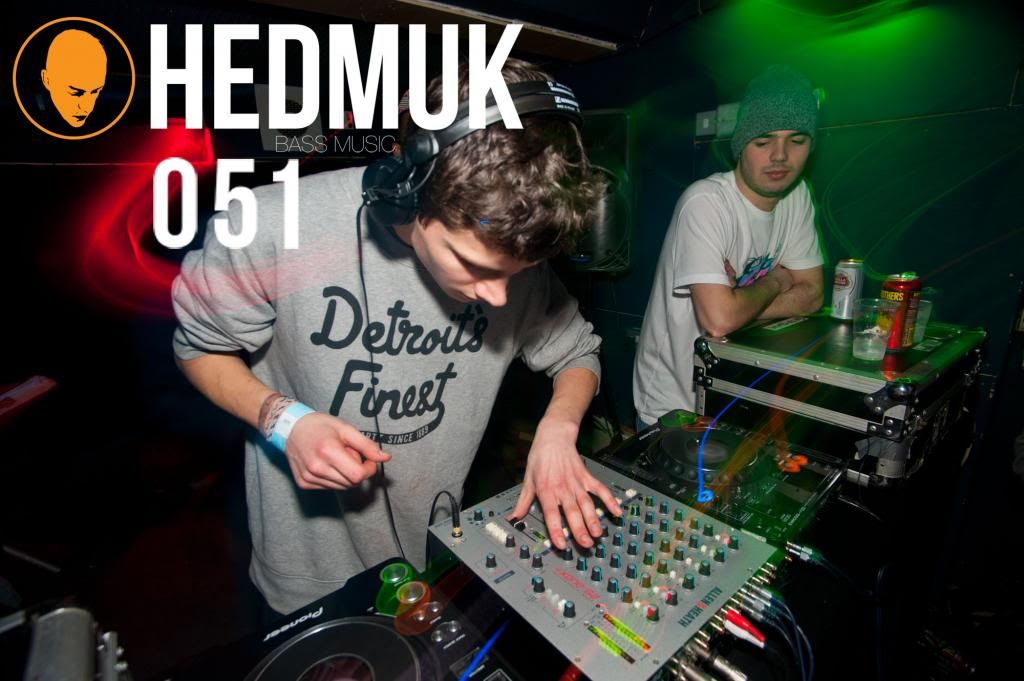 Photo by ShotAway.com
A young producer who's been fairly firmly on the Hedmuk radar since first hitting us up with a pack of beats a few years back,
Facta
has, since then, been steadily carving his own niche into the UK underground's ever-shifting sound map. With one foot held steady in his '06-dubstep roots, the other treads through garage, grime, UK funky, hip-hop and the trippier side of experimental electronic and what results is sturdy, rough-edged and system ready. This broad approach is what makes the East Londoner's beats so captivating: whilst one might be swinging out off tough kicks and snappy snares, the next will be all tucked grooves and slinky hi-hats, and the next still will just have you sat bewildered at how he's managed to fit every bit of it together to make something that moves so slickly. It's not worth simply saying he's one to keep an eye on; it would be more accurate to just wish anyone luck in predicting which direction he might lead that eye in next...
Hedmuk: By way of introduction, what's your name, where do you hail from and how would you describe your sound?
Facta:
My name's Oscar; I grew up in Hackney, East London, and currently live between there and Bristol, where I'm living and studying most of the year. In terms of my sound, I tend to see everything I make in terms of dubstep as that's where I initially found my roots – realistically, though, I produce a variety of styles that draw from garage, grime, dubstep, techno, hip-hop and breaks to varying degrees.
H: Would you consider yourself as being from a musical background, or is it an interest that you've developed yourself?
F:
Well it wasn't as if my parents were playing in bands or singing in choirs or anything, but like most families there was always music about in the house and from a young age I was slightly obsessive about finding my own path within music, which was something that my family always encouraged. When I was 9 I was convinced that I'd be in a world famous punk rock band touring the world by the time I was 16 – I'm ashamed to say that I've let my kid-self down in that respect, but I guess I'm still driven by the same ambition to create stuff now as I was then.
H: In terms of your actual production, you seem to take a mostly sample-based approach; do you feel like having a wide sphere of influence helps with this? Where, or from whom, would you say you take most influence from?
F:
Yeah, well that's definitely the key characteristic of my sound – I work almost entirely from samples; it's partly due to an inability to programme synths very well and partly down to a deep respect of the whole culture and procedure around sampling. I listen to a lot of hip-hop and experimental electronic music, from which I have developed a love of rough, fast sample work. I'm also heavily influenced by non-electronic music – most recently jazz in particular. For this reason I'm always hesitant to make music that sounds overly polished or fine tuned; when I produce a track I like to cut up the samples right on the grid, trying not to quantize things too heavily or cut the clips too precisely: I tend to leave in trails and imperfections so as to maintain as many of the nuances of the original source material as possible.
H: A lot of people from the city talk about Bristol as being a great creative environment to live and work in: is this something you would agree with? How important is the sense of existing within a creative community to you?
F:
Bristol is definitely a special place. I could talk on for hours about it, but anyone who has spent any length of time here will agree that there is something about the city and the scene here that just feels distinct from the rest of the UK. It's always had its own path and it continues to develop on its own trajectory: Bristol Dub and Reggae, Bristol Jungle, Bristol Trip-Hop, Bristol Dubstep and Grime, Bristol Techno – these have always been special, unique pockets within their relevant scenes and all have a unifying trace running through them. It's a constant source of inspiration and motivation to work and play out here, not only is there a huge audience for forward-thinking, experimental music but everybody is willing to help one another out and collaborate in a way that I never see happen in places like London.
H: Your tracks have featured heavily on Dusk & Blackdown's Rinse show in recent months, how does it feel to have that kind of backing? How far would you consider this idea of a musical community to extend to the tight group of artists being represented on the show?
F:
It's been a massive honour to receive recognition from figures that I have looked to and respected for years and years, and it's been particularly great to be involved with the pocket of artists working within the Keysound sphere over the last half a year or so: it has the perfect combination of feeling like a tight, cohesive movement whilst still remaining totally undefined and uncontained. There's a massive variety in sound from producer to producer: nobody feels like they're stepping on each other's toes. We've all got our own room to breathe within a collectively-occupied space and that's a very inspiring thing to be a part of.
H: You've also recently started a night in Bristol: can tell us a bit about your reasoning behind it, and what sort of ethos you're aiming for?
F:
The night in Bristol developed as a result of me and two friends deciding we wanted to throw no-nonsense parties at some of the cooler, smaller venues across Bristol: you can't move for great, cutting-edge line ups at big clubs in Bristol, but we did feel that there was room for a party where the emphasis was taken off new music and reinvested in location and atmosphere. So we hatched the idea of throwing house party-esque events at cool locations where we'd just ask friends and DJs to come down and play sets that they wouldn't be expected to play, giving them the chance to draw strictly for their favourite party jams. We called it Elephant 'cause that's a dumb name for a dumb club night. It's going to be sweet.
H: Take us through how you approached the mix you've put together for us.
F:
Well I've recently been lucky enough to get to know a bunch of stupidly talented producers – both in person and through exchanging tunes online – and so I wanted to throw as many of them in as possible, plus include a few of my own. The mix sits somewhere between what I'd consider to be home listening and the sort of thing I'd play in a club. Normally when playing out I tend to get carried away dropping fruity old garage tracks and golden era dubstep and grime; I've reigned that in a bit for this mix, although couldn't help but slip a few percies in.
H: Finally, are there any forthcomings lined up or anything else in the pipeline that you'd like to put the word out on?
F:
I have a vinyl-only 12" EP coming out this summer which will feature 'Montpelier', 'Kobra' and 'Upsetter'; I have a track with K-Lone that's just come out on the unbelievably-good debut 'Chord Marauders' compilation [now available exclusively from the
Chord Marauders website
]; I'm in talks about a few other 12"s, although nothing is set in stone; I'm working on collaborations with a bunch of producers including
Gantz
,
Wen
, Rabit and B9. I'm going to be playing at
Summer Saturnalia
festival in July alongside Pinch, Elijah + Skilliam, ∆kkord and Gantz, and that's about it on news. Thanks a lot for having me on – been a pleasure to get involved.
Download:
Facta - Hedmuk Exclusive Mix
Tracklist:
$tush - Dollar Sign [Social Circles]
E.M.M.A - Cherry Favour [Dub]
Facta - Montpelier [Forthcoming]
Beneath - You & Me Remix [Forthcoming]
Dizzee Rascal - Strings Hoe (Wen Remix) [Dub]
Facta - Kobra [Forthcoming]
Brunks - Steppin' [Dub]
E.M.M.A - Untitled [Dub]
Facta - Hieroglyph [Dub]
Epoch - Gun Talk - [Egyptian Avenue]
Gantz - Free Focus [Forthcoming]
Sepia - Outbreak [forthcoming Redshift One]
James Fox - Put It Back (Ramadanman Remix) [TAKE Records]
Etch - Lost Methods [Dub]
Karma - Armshouse Dub [Dub]
Wen - Galactic [Dub]
Bloom - Quartz [Gobstopper Records]
Facta - FWD [Dub]
Amoss - Tangent (Geode Remix) [forthcoming Horizons X]
Facta & K-Lone - Voodoo [Chord Marauders]
Solwork - L Town [Dub]
Geode, B9 & Congi - Scrumpy [Chord Marauders]
Facta - 36th Chamber [Dub]
Kode9 - Addiction - [Hyperdub]
Rabit - Wolf Spider [forthcoming Glacial Sound]
K-Lone - Melt [Dub]
Mark Pritchard - Heavy As Stone [Deep Medi]
W.