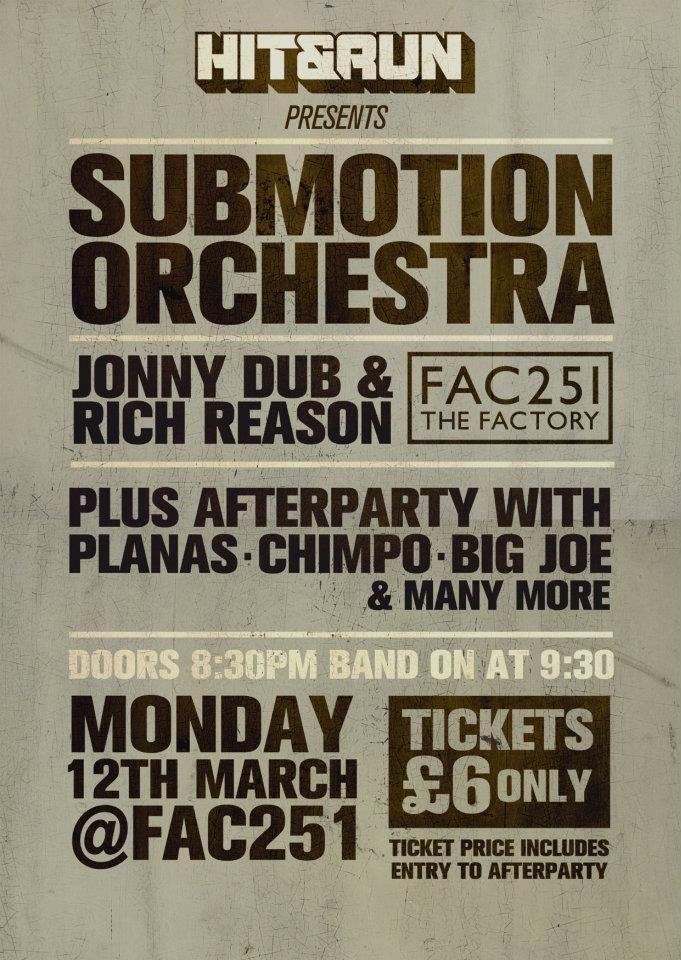 Next week sees the amazing Submotion Orchestra embarking on a month-long tour of the UK, including dates in London, Sheffield, Leeds, Brighton, Bristol and Exeter. First stop, though, is arguably city-of-the-moment for UK bass music: Manchester, and long-running clubnight Hit&Run. In anticipation of this show, and the tour itself, we caught up with Taz, who plays keys in the band, to ask him a few questions about Submotion and their forthcoming live shows.
We've also secured three tickets for Monday night's Hit&Run and two copies of the group's outstanding debut album, the aptly-titled 'Finest Hour', to give away, more details of which can be found below.
...
Hedmuk: To introduce the band, who is involved, what roles does each member play within the group and how would you describe the music that you make together?
Taz: Hello there. We've got Ruby Wood on vocals, Si 'Bobby' Beddoe on trumpet, myself Taz Modi on keyboards, Chris 'Fatty' Hargreaves on bass, Tommy Evans on drums, Danny T on percussion, and Ruckspin on FX and production. We're a dubstep-influenced band, but try to bring as many influences and sounds as possible to the group. We're all into a lot of different styles of music, and also enjoy mixing things up to see what happens, and all of that is part of the Submotion sound. People sometimes have difficulty trying to describe what the music sounds like, and that's OK with us - you don't need to pinpoint the style of any music in order to enjoy it.
H: The story behind your formation is an interesting one: can you tell us a bit about the initial York Minster gig came about?
T: The gig at York Minster was an experiment to mix contemporary dubstep with classical music, and in an amazing location. Only Tommy, Ruckspin and Fatty were involved in that and the results were pretty variable to be honest, but it got them all thinking about doing something further along those lines. They got some more people involved and we started to jam and experiment, and slowly it all started to come together. So it actually was more a catalyst for getting the group together, rather than our first actual project.
H: With a strong jazz element running through the band, to what extent do you feel that the freedom of expression commonly associated with the genre has lead to your unique amalgamation of traditional and more modern styles to achieve Submotion's unique sound?
T: To a large extent. We've found that audiences really respond to seeing a group of musicians play bass-heavy music, and doing it all live, and we've always tried to get the energy and excitement that comes from improvised music into what is actually quite a tightly structured set. You're only able to go so 'free' - it's a thin line between pushing the sound of what you're doing through improvisation, and just getting a bit self-indulgent; but hopefully we've managed to avoid doing that! We do want to try to use some of the expressive qualities of jazz to play the tunes a bit differently every time we gig, and I think audiences can pick up on that, and respond well to it.

H: You're often referred to, perhaps unfairly, as a 'dubstep band'; how far do you agree with this label? Do you find it constricting in terms of how you're able to promote yourself, or can it equally be beneficial?
T: Like I said before, we're happy to be related to dubstep, since that's where the roots of our rhythms and the space of the production come from, but there's a lot more in it [than that], and most people can see that. it's always constricting to label someone's music, but that's the nature of marketing these days whether you like it or not - people think they need something concrete to name something. Our way of getting over narrowing interpretations of it is just to play in as wide a variety of places as possible, to as wide an audience as possible - we've done grotty dubstep nights, jazz festivals, concert halls, outdoor festivals, all sorts of places - and we've managed to fit in OK at most of them. Part of that is due to the mixture of sounds in our style, but really most of it comes from the fact that audiences are a lot more happy to accept music that's not easy to categorise than marketing and advertising people give them credit for.
H: How do you approach a live show? Is it a case of following a strict setlist or something more freeform?
T: We do usually follow a pretty strict setlist to be honest. We always have a few tunes in reserve, and have been known to change things around quite quickly, but when we tour we do stick 90% to a pre-agreed setlist. But we try to interpret the tunes differently each time, so that people who see us multiple times can get something different from it. We also used to do a lot of fully improvised gigs, and still try to fit a few in whenever the chance comes up.
H: Finally, what are your plans for Submotion Orchestra once this tour is finished? Can we expect more releases, another album?
T: The second album is 70% finished at the moment, and it should be coming out in the latter part of the year. It should be pretty interesting - there'll be enough to please fans of the first album, but also some stuff that should surprise people a bit. We've also got a full summer of festivals lined up and another UK tour in october, so there won't be much rest for us...
...
To be in with a chance of winning free entry to Monday night's show (which will also gain you free entry to the afterparty hosted, once more, by Hit&Run) and a copy of 'Finest Hour' just email your answer to the following question, along with a valid postal address to which prizes may be sent, to hedmuk@gmail.com with the subject 'Submotion Competition':
On which label did Submotion Orchestra release their debut EP, the 'Submotion EP'?
The competition will close at 12 noon on Monday the 12th of February, at which point two names will be randomly selected by an independent third party to win entry to the show/afterparty along with a copy of the album, and a third will receive the runner-up prize of entry to the show/afterparty.
For more details on this Monday's event in Manchester, including how to get hold of tickets click here.
.Preacha.